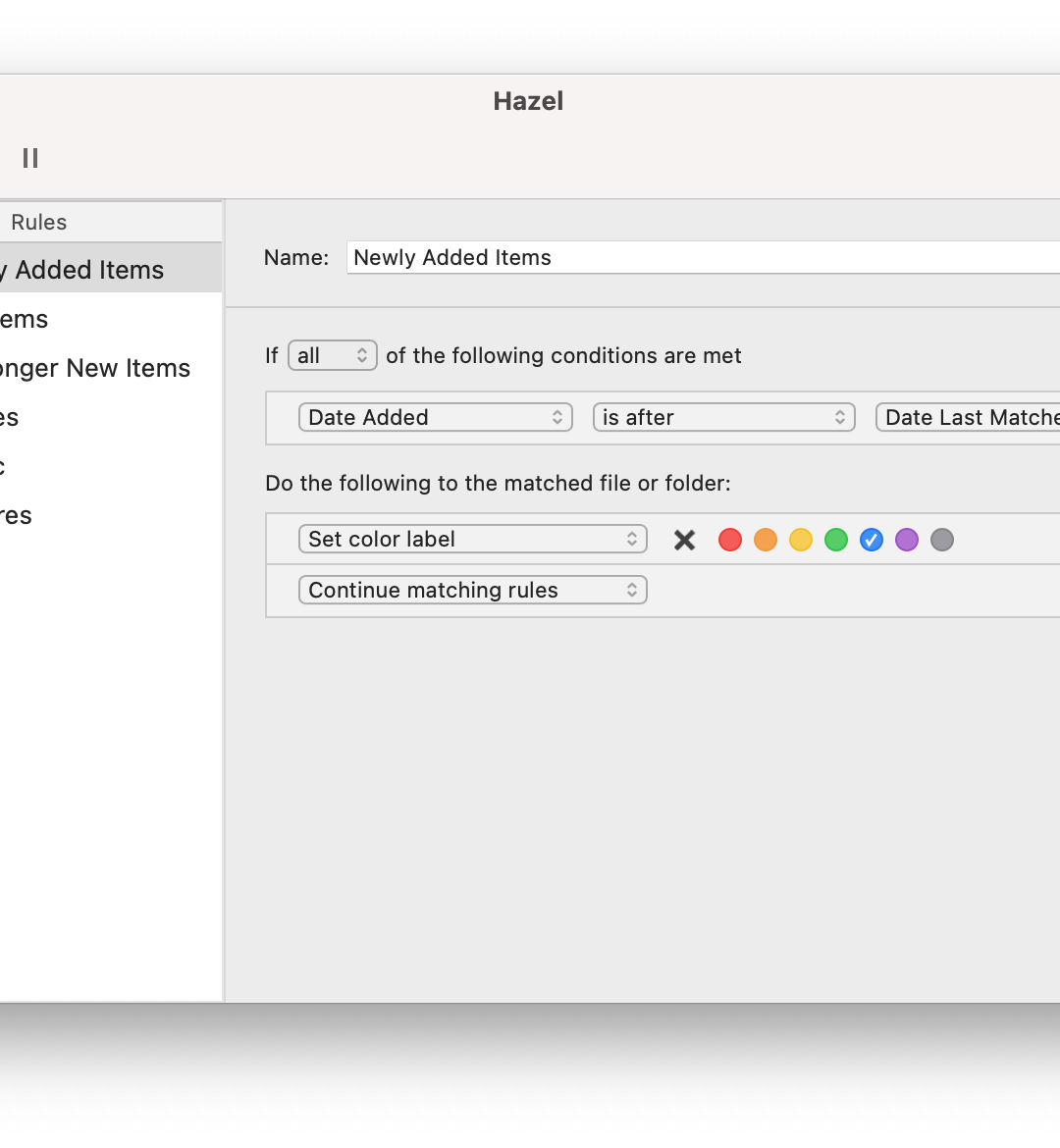 Hazel är ett program som kan ta hand om dina nedladdade filer, alla dina foldrar och filer – helt automatiskt. Du sätter upp regler för hur filer ska hanteras och sedan kan du slå på de automatiska funktionerna.
Hazel kan hantera din nedladdade filer, sätta en färgkod på dem beroende på hur gala de är vilket kan underlätta för att få ordning i en folder som det annars lätt kan bli oreda i.
Hazel kan även flytta filer beroenden på vad döper dem till enligt reglerna du skapar. Programmet kan öppna, arkivera, tagga och till och med ladda upp filer. Du kan låta Hazel byta namn på dina filer eller sortera dem i undermappar baserat på namn, datum eller vilken kombination av attribut du väljer.
Automator
Det ska sägas direkt – mycket av det Hazel gör och kan göra kan du faktiskt ordna med det inbyggda programmet Automator. Ett program som bekant följer med i macOS så är du lite kunnig så kan du skapa regler med de inbyggda funktionerna. Hazel gör det lite enklare, erbjuder ett lite mer anvöändarvan.ligt gränssnitt som gör att det blir lite lättare att hantera de regler du sätter upp.
En singelicens kostar 42 dollar och du kan tecken en licens för fem användare, familj, för 65 dollar.
What's new in version 5.3
Updated on Dec 04 2023
Interface changes:
Added workaround for macOS bug introduced in Ventura where Hazel would not show up in the Notifications list under System Settings. It should now appear as "Hazel Notifier"
Should now show full list of tags on Sonoma.
Toolbar will show labels by default now.
Fixed issue where if there is a custom table attribute on the left hand side of a condition, the first pop-up would appear blank.
Fixed multiple banners appearing.
Fixed search field in Replace folder window.
AppSweep window contents should now resize properly with window.
Fixed dark mode with AppSweep window.
In the destination folder pop-up, the "Show in Finder" function will now only enable if there is a selected folder.
Various tweaks.
Core changes:
Now built for Sonoma.
Worked around issue with copying/moving from/to iCloud to local drive on Sonoma.
Improved handling of Trash, including changes in Sonoma with respect to iCloud Drive.
Fixed Upload action not working for cases where non-alphanumeric characters would appear in the URL, like spaces.
Tweaks to Set Color Label action to be more consistent.
Fixed non-standard numbers (like Arabic-Indic numerals) getting mangled when renaming files.
Photos support improved. Photos action should no longer need to bring up the Photos app.
Miscellaneous fixes.