Apple har släppt version 12.1.1 av iOS med stöd för eSIM och flera nya funktioner för FaceTime samtal. Apple har även uppdaterat de övriga versionerna av sina operativsystem, alla utom watchOS.
I iOS så kommer en ny notishantering för iPhone XR, förutom de redan nämnda funktionerna.
iOS 12.1.1 adds features and fixes bugs for your iPhone and iPad. Features and improvements include: Notification preview using haptic touch on iPhone XR Dual SIM with eSIM for additional carriers on iPhone XR, iPhone XS, and iPhone XS Max One tap to flip between the rear and front-facing camera during a FaceTime call Live Photo capture during one-to-one FaceTime calls The option to hide the sidebar in News on iPad in landscape orientation Real-time text (RTT) when using Wi-Fi calling on iPad and iPod touch Stability improvements for dictation and VoiceOver

Bug fixes include: Fixes an issue where Face ID may temporarily become unavailable Addresses an issue that prevented visual voicemail from downloading for some customers Fixes an issue in Messages that could prevent predictive text suggestions when typing on the Chinese or Japanese keyboards Addresses an issue that could prevent Voice Memos recordings from uploading to iCloud Fixes an issue where time zones may not have updated automatically

This release also adds features and fixes bugs for HomePod including: Support in Mainland China and Hong Kong HomePod LEDs illuminate during Group FaceTime calls
Mojave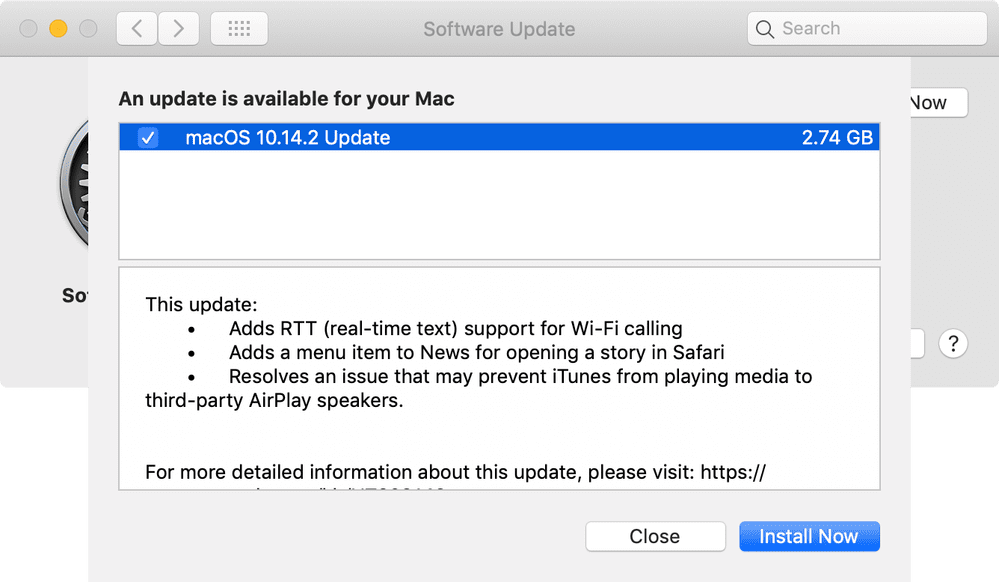 Du laddar ned och uppdatera dina Apple-prylar snabbt och enklast direkt i varje enhet. Sitter du med en egenimporterad HomePod så finns det en uppdatering även för den enheten.