Anthony Kennedy har tillkännagivit att han kommer att avgå som domare i USAs Högsta Domstol vilket betyder att Donald Trump ges en möjlighet att tillsätta ännu en domare.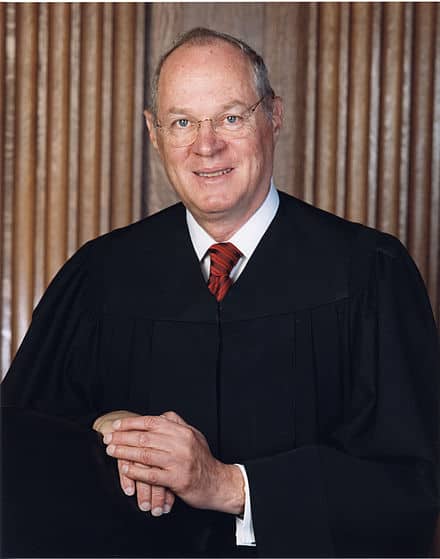 Domarna i den amerikanska Högsta Domstolen sitter på livstid och de har stort inflytande på hur lagar ska tolkas i förhållande till den amerikanska konstitutionen. HDs avgörande kan därmed betyda mycket för enskilda amerikaner och Anthony Kennedy har varit en avgörande faktor när det handlar om kvinnors rättigheter, rätt till abort och för alla LBQT-personer och deras rättigheter.
Beskedet om hans avgång har startat en debatt om vart amerikanska HD nu kommer att gå i viktiga frågor i ch med att Trump nu kan tillsätta ytterligare en konservativ domare. Bedömningarna är att HD nu kommer att ha en betydligt mer konservativ tolkning av de ärenden som läggs fram för domstolen.
New York Times
WASHINGTON — Justice Anthony M. Kennedy announced on Wednesday that he would retire this summer, setting in motion a furious fight over the future of the Supreme Court and giving President Trump the chance to put a conservative stamp on the American legal system for generations.

Justice Kennedy, 81, has been a critical swing vote on the sharply polarized court for nearly three decades as he embraced liberal views on gay rights, abortion and the death penalty but helped conservatives trim voting rights, block gun control measures and unleash campaign spending by corporations.
Källa: Supreme Court Justice Anthony Kennedy Will Retire
Slate
It's no secret that Justice Anthony Kennedy, who announced his imminent retirement on Wednesday, always had an eye toward his legacy. During this 30-year tenure on the Supreme Court, Kennedy often wrote grandiose opinions that seemed designed to be quoted and admired by future generations. That line of thinking was particularly evident in a series of decisions protecting gay Americans' right to equal dignity. Yet by choosing to retire under President Donald Trump, Kennedy imperils that legacy, throwing his most celebrated and far-reaching decisions into serious jeopardy.
Källa: Slate
Wired
JUSTICE ANTHONY KENNEDY, the current Supreme Court's longest-serving member, announced his retirement Wednesday, paving the way for Trump to shape the future America's highest court . Nominated by former President Ronald Reagan in 1987, the 81-year-old justice has served as the crucial swing vote in a number of landmark cases, including rulings that legalized same-sex marriage and preserved abortion rights.
Källa: Anthony Kennedy's Retirement May Have Huge Consequences for Privacy