Niantic har börjat att skicka ut varningar till spelare i Pokémon GO som använder tredjepartsprogram på sina konton. Varningen är tydlig, fortsätt fuska så blir du av med ditt konto.
Det finns olika sätt att fuska i spelet och nu slår Niantic (tråd på Reddit) ned mot de som använder tredjepartsprogram på sina konton. De program som används är allt från GPS-appar som du kan använda för att fuska med var du befinner dig till scanners som visar Pokémons i närheten.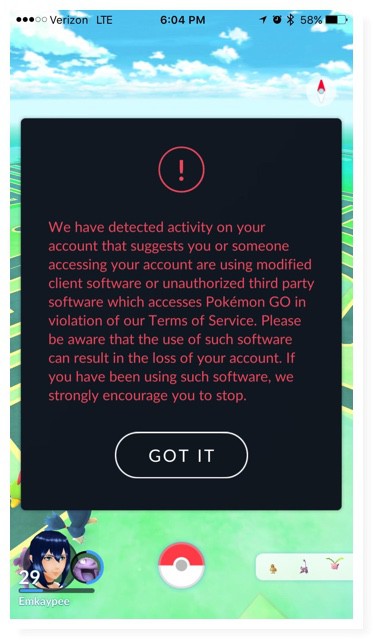 Alla sådana program och appar bryter mot spelets regler. Det enda program som går vara inloggad på ditt konto är den officiella spelappen.
Knäckta enheter
Niantic slår också ned på knäckta enheter och har du inte vare sig använt andra appar eller använder en knäckt enhet så bör du omgående kontrollera ditt Google-konto.
Det Niantic kan ha upptäckt är att någon annan har access till ditt konto.
We have detected activity on your account that suggests you or someone accessing your account are using modified client software or unauthorized third party software which accesses Pokémon GO in violation of our Terms of Service. Please be aware that the use of such software can result in the loss of your account. If you have been using such software, we strongly encourage you to stop.
Byt lösenord
Under Säkerhetsinställningar och "Apps connected to your account" så ser du vilka appar, program och tjänster du givit access till ditt konto.
Plocka bort alla appar och program som du inte använder och byt lösenord på kontot.
Nu bör du inte få upp varningen fler gånger.
Förutsatt att du inte fuskar, vill säga.